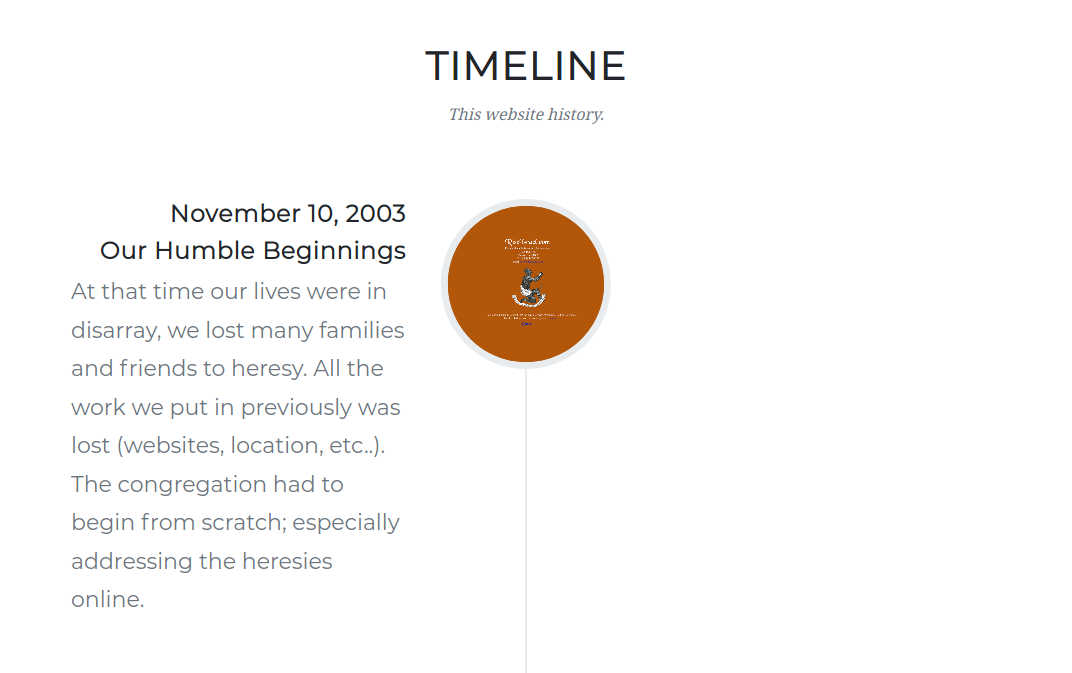 Seventeen years ago, three brothers met after work in an apartment to study the scriptures. Matthew 18:20 "For where two or three are gathered together in my name, there am I in the midst of them." We were of the few that remained in the faith, from a congregation that fell away to heresies taught by the Bishops (elders) and Deacons. What we experienced was traumatic, stressful, and disheartening. But by coming together and applying what we learned over the years we found comfort in the scriptures. 1st Thessalonians 5:11 "Wherefore comfort yourselves together, and edify one another, even as also ye do." By doing this Christ was confirming our beliefs and inspired many ideas. Somehow we came to the conclusion that we should address the heresies that our former fellowship was promoting online. Tarnishing the good name of the most High and that he gave to our nation in prophecies. Perhaps also reach some of the brothers that were blindly following the elders and needed the same confirmation that we received. As we search for a website name it wasn't hard to figure out, immediately RiseIsrael.com was suggested. It expressed our desire for our people in the world and those that were going astray but still had the opportunity to repent.
Over the years many changes happened which you could see below in the timeline. But to give you an idea, shortly after some brothers reached out and began to congregate with us. Satan tried to derail the work of Christ, by having even a bishop and deacon reach out. But some naively thought they were repented although they made up the heresies. Galatians 1:8 "But though we, or an angel from heaven, preach any other gospel unto you than that which we have preached unto you, let him be accursed." Later on their true intentions were discovered, they separated themselves and began another congregation. However some damage was done, and to this day they are promoting their heresies to many among Israel.
In the beginning the website looked horrible, but we concentrated on the content being of the Spirit rather than looks. Constantly we were getting ideas of new things to write about, mostly addressing the hard scriptures found in the letters of Paul. Which was the basis of the majority of the heresy, then we shifted our attention to proving our identity. Since their doctrine was now to justify committing sin, they began to deny that they were Israel. There was no way they could continue believing in the prophecies mentioned in Deuteronomy 28:15-68 and claim the laws are no longer to be kept. We began to see those same prophecies mentioned in the law fulfilled in them; marriages falling apart, broken homes, worshiping of false gods, and finally losing the school. At that point we shifted our attention to focus on those asleep in the world.
Acts 13:46 "Then Paul and Barnabas waxed bold, and said, It was necessary that the word of God should first have been spoken to you: but seeing ye put it from you, and judge yourselves unworthy of everlasting life, lo, we turn to the Gentiles [the lost sheep of Israel, that did not know their nationality]." Verse 47: "For so hath the Lord commanded us, saying, I have set thee to be a light of the Gentiles, that thou shouldest be for salvation unto the ends of the earth." Verse 48: "And when the Gentiles heard this, they were glad, and glorified the word of the Lord: and as many as were ordained to eternal life believed." At first the visitors were not that many, we began again to teach in the streets, mail out newsletters, and hold seminars.
The Spirit of the most High through his divine influence gave skill to a person that never did web designs to create artwork that was beyond looking professional. Shortly after we had a huge mailing list, we were traveling to teach those newly come into the truth, and the website began to have thousands of visitors. Every month the report "Who are the Children of Israel?" had over a thousand unique visitors. We got to hear from people all over the world, mainly in the United States. Today we are thankful to the most High that we have expanded, met many believers, and built up many families. We pray that RiseIsrael.com will continue to be a place of refuge and learning for many generations. Amen!