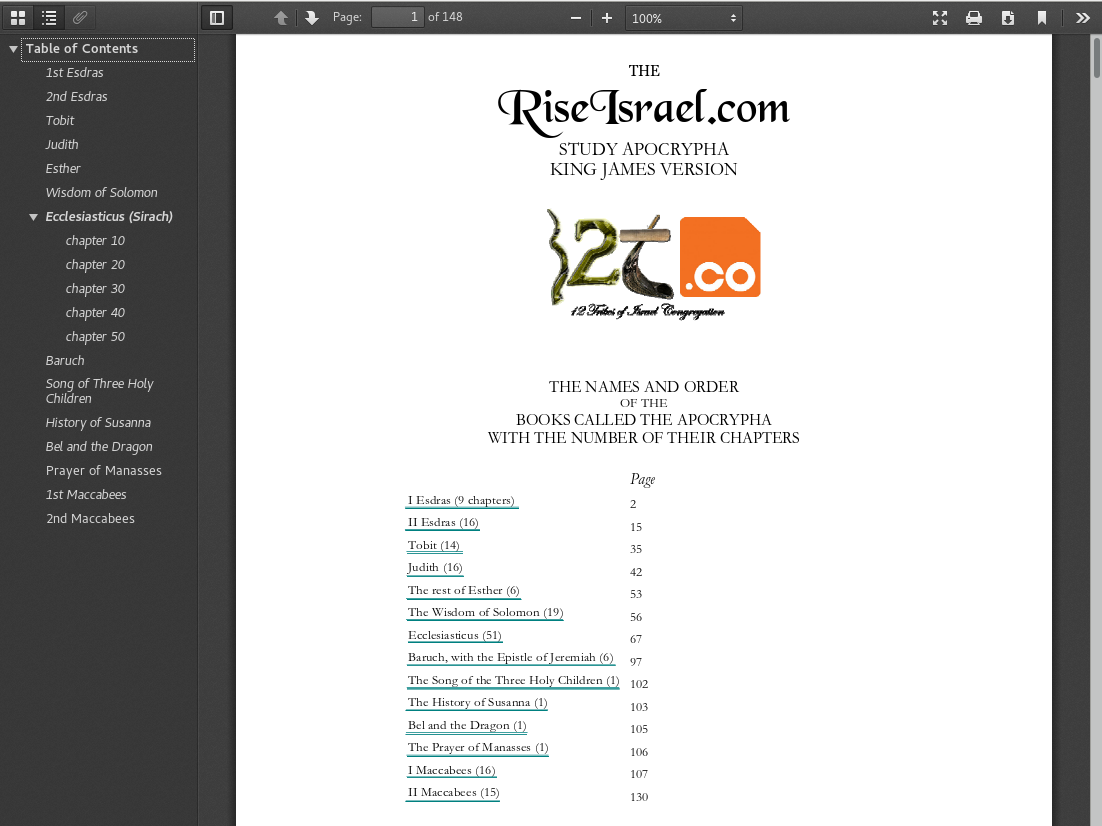 Most sisters are not aware that they could be very helpful to the truth of the Heavenly Father. In the scriptures there is constant proof of this, although it is not taught often. Philippians 4:3 "And I intreat thee also, true yokefellow, help those women which laboured with me in the gospel, with Clement also, and with other my fellowlabourers, whose names are in the book of life." For instance yesterday (on the Sabbath) we received an email from a sister that informed us of a misprint in the Apocrypha PDF (printer friendly) download. Besides correcting what she pointed out to us we also took the time to make some improvements to the PDF.
Such as adding shortcuts links in the Table of Contents page to jump to the book desired. The previous version had bookmarks to each book but for the technically challenged it was hard to find. Now you do not have to worry about looking for the bookmark since the Table of Contents actually provides the same ability. Yet if you were proficient with the bookmarks; Ecclesiasticus now has additional bookmarks to skip 10 chapters at a time. Finally everyone should know that the Apocrypha Download works on any device; on your computer, tablet, and phone. But if you are like me you printed it out and wrote precepts (link ups to other scriptures) on the sides. In the near future we want to introduce a separate version that contains the precepts that we added during our studies.
Permalink: https://12tribes.net/bible/apocrypha-downloads/
Corrections: Ecclesiasticus 36:25-26 (missing verse), Tobit 8:7 (replaced lush with lust), and 2 Maccabees 7:27 (replaced such with suck).